I don't remember too many of the little details from our wedding. I ran late, and I was so nervous I couldn't eat at the reception. When we got in the car to head off, I was all of a sudden starving and started eating the leftovers someone had packed us. Meatballs. Out of a Styrofoam cup. That was the beginning of my husband having to learn to love the unlovely. Whatever. My hair still looked amazing.
Our first few years of marriage were hard. I came with so much baggage. He came with hardly any, which made me want to punch him in the face. I looked to him to mend my cuts, heal my bruises, and fill up my holes. He wasn't very good at digging in with me and putting himself in my shoes. I had ridiculous expectations of his role in my life. He talked about sports too much. I had no idea how to deal with conflict in a healthy way. He had dealt with so little conflict that he didn't know where to start. I wanted to wait several years before having a child, but then I realized I had married one. We were a hot mess. There were times we thought we weren't going to make it.
According to the world, we shouldn't have. In our culture, we have changed our marriage vows from "as long as we both shall live" to "as long as we both shall love." We watch movies and aspire to have relationships like those of paid actors quoting unrealistic lines. We want the fairy tale. Then we get married and realize that the fairy tale was a farce. What we saw was not at all what we got. That 120 minutes sure didn't give us the whole story. When we stop feeling lovely feelings, we stop loving, as if the one is totally dependent on the other. We decide we're not happy, and a good God would want us to be happy, right?
Although happiness is a byproduct of a God-centered marriage, it's not the point. It took me a while to get that. I know I'm not alone. God didn't design marriage to make us happy. In Ephesians 5, Paul says that a man leaves his father and mother to join with his wife, and they become one. But he goes even further and tells us the true purpose for marriage: "This is a profound mystery – but I am talking about Christ and the Church." (v. 32) God designed marriage to mimic Christ's covenant with his Bride, the Church. Christ loves us when we are completely unlovely. It's a love that is not based on who we are, but on who He is. It's unconditional, unstoppable, and based on a solid foundation of grace. Jesus loves His people, His Church, by conscious decision, daily devotion, and completely giving of Himself (even to the point of death!) to make her better.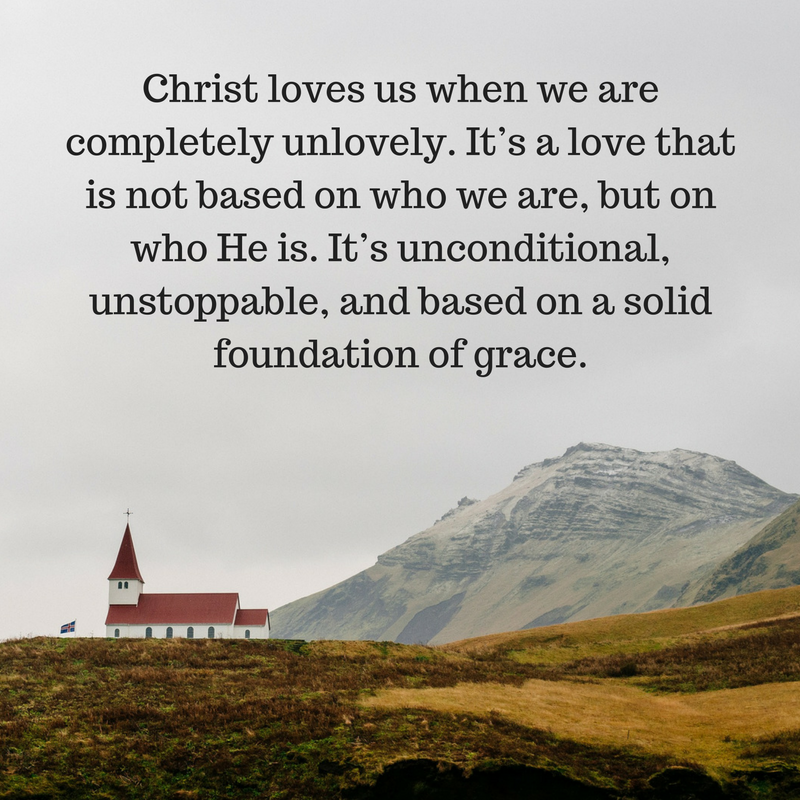 So what's my job in my marriage? To be in a covenant relationship with my husband. When we said "until death do us part," we absolutely and completely meant it, because that's the way Christ loved us. We choose to wake up every day and love each other, not because of who we are, but because of who God is. Sometimes it's not pretty; it's often very hard, but I've also learned that most things in life worth doing don't come easy. I have seen a sign in several of my friends' houses that says, "Excuse the mess, but we live here." It is the same with my marriage. We are two screwed up, sinful people coming together, making a mess, and choosing to love and live in covenant with each other anyway. Some days it's easy, and some days we just decide to love in spite of ourselves, to walk the hard road in brokenness together. Excuse our marriage, but we live here. It's hard work, but it's holy work, and it's our calling. When we choose marriage, we choose to model God-love to a lost and hurting world.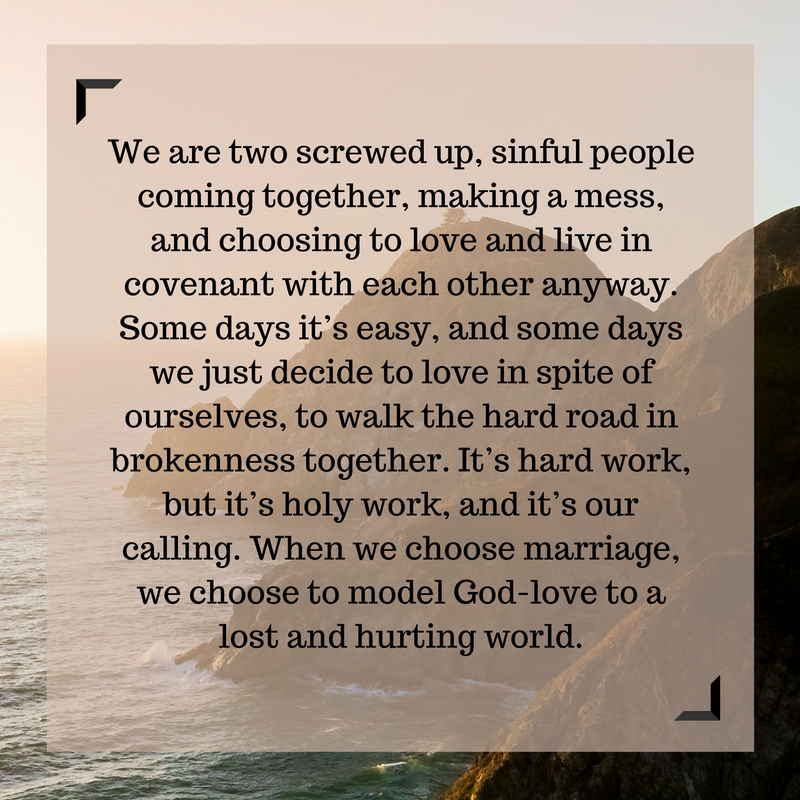 When there are days that are hard, and you are thinking about giving up, think about this – what if we looked at divorce not just as breaking covenant with a spouse, but also as misrepresenting Christ's love for His Bride? It's enough to slow me down and make me think long and hard about the commitment I made. My marriage wasn't just for me. It wasn't just for my husband. It was for the God of the Universe, who entrusted me with the privilege and responsibility of pointing people to Him through my promise to my husband. When they see our commitment and the way we love, may they always think it looks strange. Abnormal. Unnatural. Lovely. Above all, divine.