Today is National Do Something Nice Day. We didn't even know that was a thing, but we are glad we found out.
We'd love it if you'd reach out to someone today in an act of kindness. Many people are walking a very hard road, and one act of kindness – one nice thing – could completely change the mood (and maybe even the trajectory) of their day. Acts of kindness bless the receiver, the giver, the onlooker, reduce stress, improve mood, teach the younger generation, and breed more acts of kindness. Not to mention that being kind is a pretty big deal in the Bible.
"This is the first and greatest commandment. And the second is like it: 'Love your neighbor as yourself.'" – Matthew 22:38-39
He has told you, O man, what is good; And what does the LORD require of you But to do justice, to love kindness, And to walk humbly with your God? – Micah 6:8
Therefore, as God's chosen people, holy and dearly loved, clothe yourselves with compassion, kindness, humility, gentleness and patience. – Colossians 3:12
(And on and on and on…)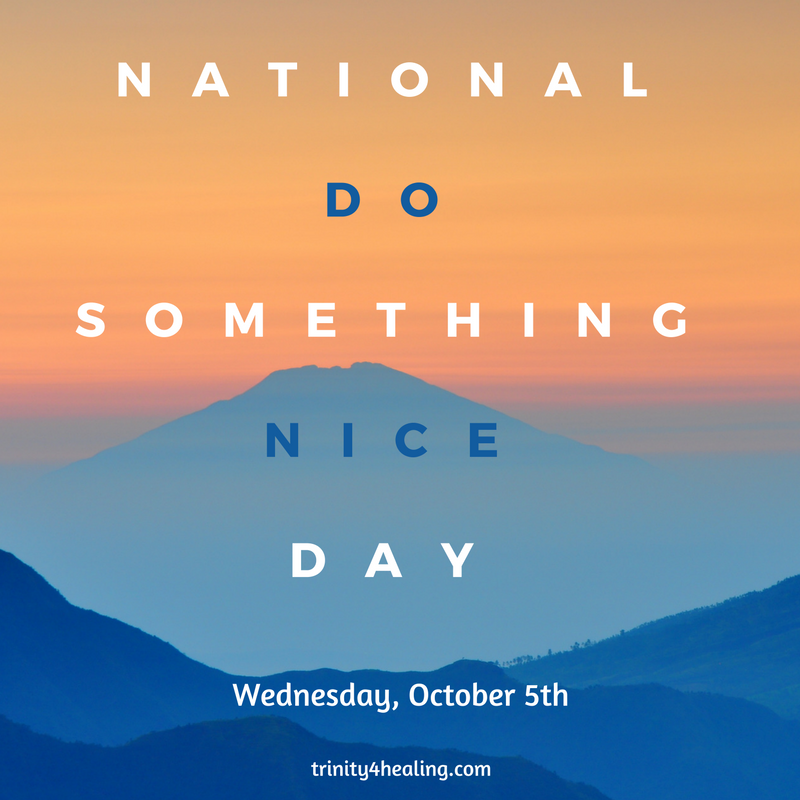 To help you in your quest, here is a list of 50 ideas on how to show some love today!
Pay for the person behind you in the drive-thru.
Randomly leave a gift on a friend's front porch.
Write someone a personal letter and mail it. (Real mail is the BEST!)
Call an old friend or family member you haven't talked to in a long time. (No, texting doesn't count.)
Buy a bouquet of flowers. Split it up and hand little bunches of flowers out to strangers.
Bake some brownies for your neighbors. (Box kind is fine!)
Surprise a friend at the office with a yummy lunch.
Befriend someone who seems lonely.
Compliment a stranger.
Encourage someone in a very intentional and purposeful way.
Hold your tongue. Think twice when speaking today and commit to only speaking kind words.
Pray for someone and then let them know you are.
Share your story (be real!) with someone you know who is struggling.
Have your kids make cards for friends and loved ones, include a note, and mail.
Volunteer somewhere – animal shelter, soup kitchen, church, non-profit. Make a difference.
Ease someone's load: Give them a ride, make them dinner, watch their kids, run their errands, pick up their groceries etc.
Send a care package to a college student or soldier.
Pick up random thoughtful gifts in the dollar section and hand deliver them to your friends.
Make dinner together as a family. Even though it takes longer, let your kids help!
Play a game after dinner as a family.
Leave encouraging Bible verses or quotes written on post-it notes on random cars in the parking lot. Pray for that person as you leave that note.
Reach out to a mom you see out in public who has her hands full. Encourage her and tell her she is doing a great job.
Pay for someone's groceries.
Leave money on the gas pump for the next person's gas.
Make a list of 10 concrete, real reasons you love someone and leave it for them to find.
Do a task for someone you wouldn't normally do – do their grocery run, wash their dishes, fold their laundry etc.
Gift a struggling couple with a date night – restaurant gift card and free babysitting.
Feed the parking meters downtown.
Be the snack fairy at work. Leave healthy, yummy snacks on coworkers desks when they're not looking.
Make a mixed CD of fun, upbeat songs for a friend.
For the whole day, any time you see someone post an accomplishment or something positive on Facebook, leave a heartfelt comment of congratulations and encouragement.
Write out a prayer for someone and mail, hand deliver, or email it to them.
If you know someone is dealing with a particular struggle, make them a "flip book" of helpful and encouraging Bible verses that pertain to their situation.
Write out all the verses you can find on the promises of God and give them to someone.
Print out pictures you have of family or friends and send them to them in the mail.
Gift a hot meal to someone who is hungry or homeless.
Visit a nursing home and make an effort to talk to those who seem lonely.
Give small gifts to show your appreciation to your ministers and church staff.
Sell some items you don't need anymore, and give the money to a struggling family.
Give away nice clothes to someone who is your size.
Call your child's school principal and tell them what an amazing job your child's teacher is doing.
Wash someone's car.
Weed someone's flower beds.
Plant some new fall flowers in someone's yard.
Donate art supplies to a local children's hospital.
Write a funny and personalized poem to make a friend laugh.
Deliver water and snacks to construction or road workers who are out in the heat.
Leave a gift in your mailbox for your mail carrier.
Make a positive, encouraging, empowering video and post it to Facebook. Tag those you know who are having a rough time.
Donate needed items to a shelter.
We hope this gives you some motivation and encouragement to get started. We'd love to hear your amazing stories of how being kind was a blessing to YOU.
Go forth, Readers, and LOVE!