I have always been struck by the story of Jesus visiting the home of Mary and Martha (if you don't know it, take a look at Luke 10:38-42). Although Mary is the "right" one in the account, I have always had a special place in my heart for Martha. She's Type A, a planner, a busy little worker bee, she's pretty uptight and on the verge of completely losing it. She's my people.
I know I'm not alone. If you're like me, you've always felt a little mad for her (the righteous kind of anger, of course). You may have wondered, "Well, why WON'T Mary get off her tush and help a sister out?!"
This world is busy and there is so much to be done. And we're noble right? We want to do the good things. We want to go to church and serve on all the committees. We want to take all the meals and hold all the hands and dry all the tears. We want to provide for our families, be actively involved at our kids' schools, make sure they are in all the clubs, take all the music lessons, and play all the sports. Our weekdays are filled with going to work, dinner making, homework doing, sports practicing, and rushing to get everyone in bed at a decent hour. Our weekends are stuffed with social engagements, sporting events, household chores, church activities, birthday parties, yard work, and travel.
Before we know it, we feel like we are living on a merry-go-round that will never stop. We are getting nauseous from all the spinning. We scramble desperately to hang on, clinging to the bars for dear life. When this happens, if we are lucky, we finally get knocked off and get to take a moment to assess the damage and reevaluate. And hopefully, we can finally see it for what it is. This kind of frantic chaos and crazy noise does not honor God. Sometimes the doing honors God. But many times, the stopping honors Him more. (I would guess our frantic, stressed out family members don't feel very honored either.)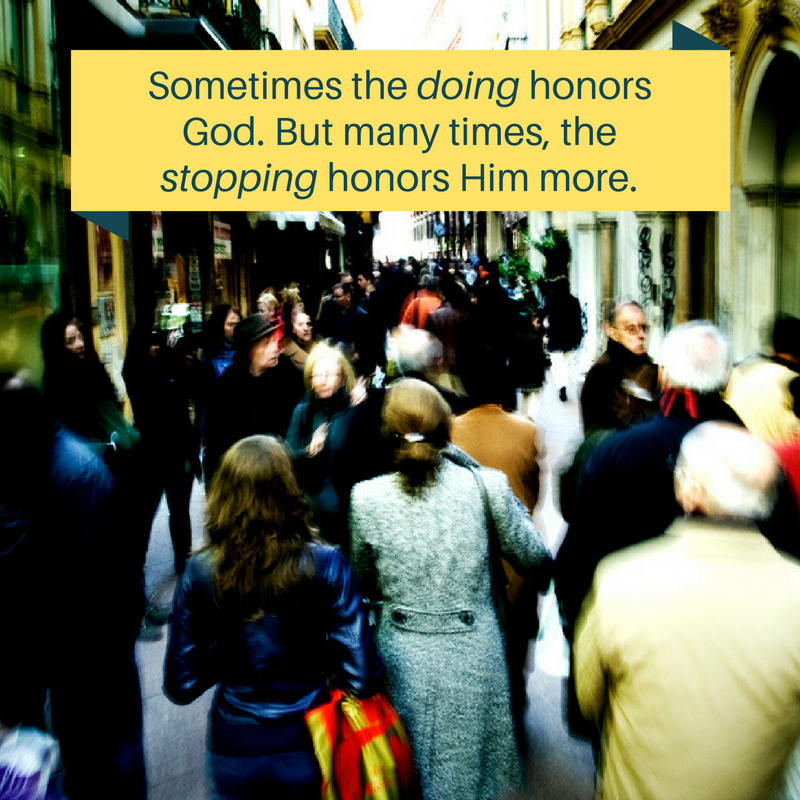 Somehow, some way, without even realizing what has happened, all of our "right" choices and "good" intentions have turned us into frazzled, frantic doers with lives of self-imposed stress and chaos. We find ourselves questioning, "Where did we go wrong?"
It's a classic case of some pretty twisted priorities. The base of the word priority is "prior." So when we look at our lives and are deciding how to rank all of our needs and desires, we need to think about that word. What do we need to put prior? What needs to come before everything else? What is essential, crucial, necessary, absolute, antecedent to every other thing? A clean house? Being hospitable? Participating in every church function? Climbing the corporate ladder? Self gratification and entertainment? Our kids' athletic and scholastic achievements?
The things Martha is busy with aren't bad. Hospitality is actually commanded in the Bible. The problem is that she has lost sight of what is really important. She is neglecting to put first things first. Luke 10:40 tells us that Martha is "distracted" by many things. The original word here is one that means "driven around mentally" by something or "drawn away" by something. It's serious. Martha is being mentally controlled and driven around by all her preparations, and she is being drawn away from the most important thing. Meanwhile, her sister Mary is "sitting at the Lord's feet, listening to His teaching." That does it. Martha has had enough.
In her resentment, she approaches Jesus and says, "Lord, do you not care that my sister has left me to serve alone?" Ahem. Excuse me. Are you catching this? She goes up to the Savior of the world, the one that will soon die for her, and says, essentially, "Don't you even care about me?"
But before I judge her too harshly, I need to take a good look at myself. Am I resentful about my good works? Am I frustrated by the people who seemingly aren't doing as much? Am I judging them for their choices? Am I accusing God of not helping me enough? You guys. I do this. I put everything else in front of Him, running at a pace that I can't possibly maintain. Then, when I finally collapse in complete exhaustion, I come to Him. "Don't you care? Why is life like this? Where are you in all this crazy?"
I love the way Jesus answers her. He's honest but He is ever so tender with her heart. "Martha, Martha, you are anxious and troubled about many things, but one thing is necessary. Mary has chosen the good portion, which will not be taken from her." "Martha, Martha." Can you just imagine how He says this? Jesus loves her with all His heart, and He is brokenhearted that she is missing out on the One Thing – HIM. Martha is way more concerned about putting bread on the table than she is about sitting at the feet of the Bread of Life. And guess what? This wasn't something that women got to do. In that time, they only go to learn from afar, listening from the women's section of the synagogue or getting the information second hand from their husbands. But right here in their living room is the Christ, saying, "Come to me. Sit at my feet. Get as close as you possibly can. I have a beautiful word for you. I AM the beautiful Word for you." And she is completely missing it.
I don't know about you, but I want to stop missing it. Satan uses the propensities of our culture to make us feel like we have to keep up. We have to be involved with everything all the time. What if we miss out? What if we don't make enough money? What if our kids aren't part of ALL THE THINGS? Can we just stop a minute? Can we think this through? Can we say enough is enough and take our lives back?
In Luke 6, Jesus talks about digging deep and building a foundation on a solid rock. I imagine that kind of planning, digging, and building is hard work and takes intentionality and a lot of time. But I, personally, long to say of my faith, my family, and my home: "When the stream broke against them, it could not shake them because they had been well built." Psalm 27:4 says, "One thing have I asked of the Lord, THAT I will seek after: that I may dwell in the house of the LORD all the days of my life, to gaze upon the beauty of the LORD and to meditate in His temple."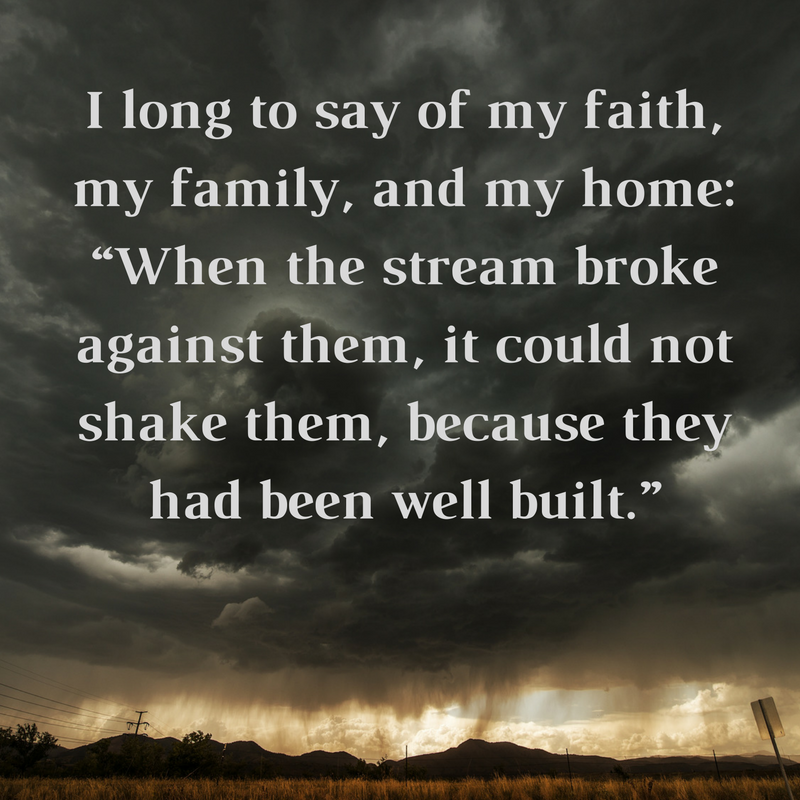 Is there any other foundation more important? Is there any other priority in our lives that is more significant than digging deep and building our homes and families on THE ROCK?
Practically speaking, what does this look like? As I type this, we are implementing new changes at our house. I have realized that we have gotten into some bad habits and have mixed up our priorities. Our kids are a bit spoiled and are becoming more selfish. We are rushing prayers and bedtime and have slacked on family time in His Word. For us, we will start out with this: sitting down to eat dinner together AT THE SAME TIME (gasp) and following dinner with family Bible study. Certainly, we can't make our kids love Jesus or choose to put Him first in their lives. But they won't even know how to get started if we don't show them (and if we aren't even doing it ourselves).
I long to become disciplined about regularly sitting at the feet of Jesus. I want to daily lay the craziness down, lean in, scooch up as close as I possibly can, and delight in my Savior and His Word. But it will not happen if it is not my top priority. Friends, what other thing in your life has eternal implications like this does? What could you want more than for your kids to grow up loving Jesus and following Him with all they have in them? When I think about all the things on my plate and all there is to do, NOTHING is more important to me than this.
One thing I have asked, this I will seek – that I will rein in my inner Martha and will sit at the feet of Jesus, hanging on His every word. After all, HE is the only thing that will fulfill these longings inside us. HE is the Bread that never leaves us hungry, the water that quenches every thirst.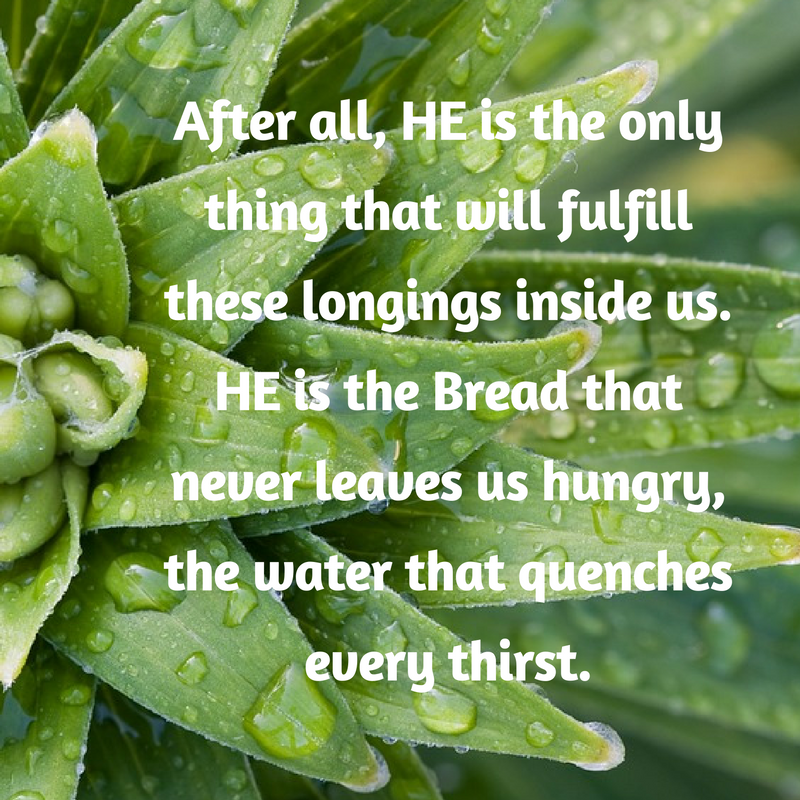 Lord, help us to daily choose you – the One Thing, the Good Portion. You are so much more than enough.