I loved everything about Fall when I was little. I loved the cool, crisp days, the smell of leaves burning, carving pumpkins, going to the Fair, the church chicken stew, my perfect mom-made Halloween costumes, the annual haunted trail, and fake fortune-telling to all the trick-or-treaters who came to our front porch. I loved that Fall meant the promise of the outdoors, swinging on a rope swing off the top of our storage building, and kid wars in the bamboo forest behind our house. Even when Dad would make us rake the leaves, and there were so many leaves, I took breaks to jump in big piles and squealed with delight. It was so easy to find joy back then.
When I think of some of those things now, I have a tainted view. These days, you couldn't pay me to go on a haunted trail and be scared on purpose. The fair is super expensive. I'm pretty sure burning leaves is bad for the environment, and jumping in them seems irresponsible – you're just asking for a spider bite. I was still on board with carving pumpkins until I realized it made my oldest gag, and my youngest had no desire to put his hand in and touch nasty pumpkin innards. "I don' wanna do dat. Da's gwoss." Well, I think it's kind of gross too, kid, so here you go. Enjoy your Sharpie marker. Happy Halloween.
I am realizing that I often let the stress of life and a negative outlook steal my joy. I regularly let my to do lists, parenting responsibilities, financial strains, and fears hold me back from really enjoying life. Don't get me wrong. I have a husband, kids, friends, family, and church I love, as I'm sure you do too. Unfortunately, I often let those things be overshadowed or diminished by the stresses of adulthood. And here's the kicker – my childhood wasn't perfect. There were several less-than-ideal things I had to deal with as a kid. So I'm not coming from a place of "life was perfect." But somehow I was just a lot better at finding the joy back then.
Before you get worn out with all the nostalgia and sappiness, I'll get to the point. We need to be intentional about seeking out joy. We need to learn to let go, live in the moment, and be fully present in the here and now. It's going to look like cutting down on social media time, watching and reading less news, not getting involved in battles that don't matter, reprioritizing our to-do's, and embracing the "mess" our kids want to get into on a daily basis. What better way to get some of your childhood enthusiasm back than to let your kids drag you on their escapades? And we better encourage and participate in those adventures now, because one day they'll stop inviting us to come along.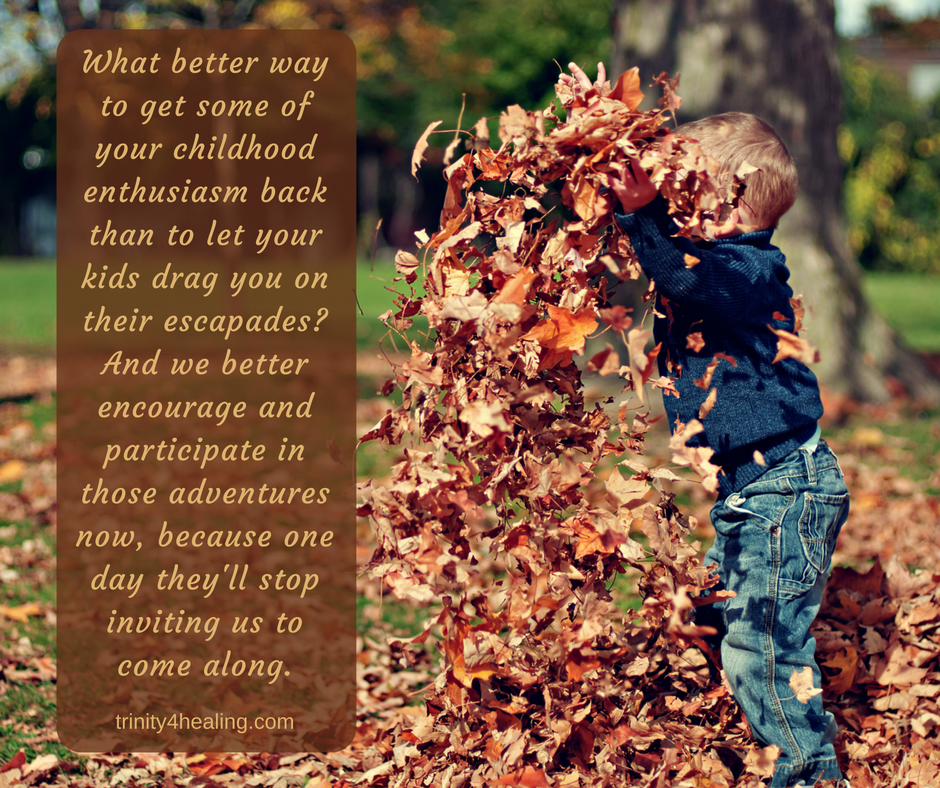 Will you join me today? Step away from Facebook, turn off the (depressing) news, put on some ratty clothes, and go outside. Stomp in a creek, climb a tree (It's okay – you have your own insurance now), take a walk, do a craft, play a board game, laugh till your sides hurt. Seek out good friends, be intentional in relationships, order some pizzas and invite someone over for dinner (even though your house is dirty) and doggone it, go jump in a pile of leaves. The likelihood that you'll actually get bit by a spider is like one in a million (Disclaimer: I made up that stat. Trinity Christian Counseling cannot be held liable for any spider bites that you may or may not receive from leaf-pile jumping).
Cause guess what, guys? This day, this very day, is the one the Lord has made. It is good. So let's rejoice and be glad in it. It's not just a suggestion. It's a promise.