My first Mother's Day was completely heartbreaking. I had just lost my son, Gabriel, to stillbirth at 37 weeks. His due date was Saturday, May 10th. Mother's Day was Sunday, the 11th. He had died three weeks earlier, and I was completely devastated. I could barely go anywhere in public because my heart couldn't handle seeing all the little boys running around stores and restaurants, giggling, mischievous, and so full of life.
They were all very much alive, and my sweet boy wasn't. I not only missed the baby I had lost, but all the ages and all the stages I would never get with him. As for Mother's Day? I had dreaded it every day for the last three weeks. I despised its coming, and felt angry that the world could just move on with its happy little holiday, while my dreams were shattered, and my life felt hopeless. I begged God for a dream of my Gabriel in Heaven, for some sign that he was okay. For a sign that I would be okay. Not today, but someday. I cried out to Him for peace and understanding, for hope, to bring some joy from these ashes.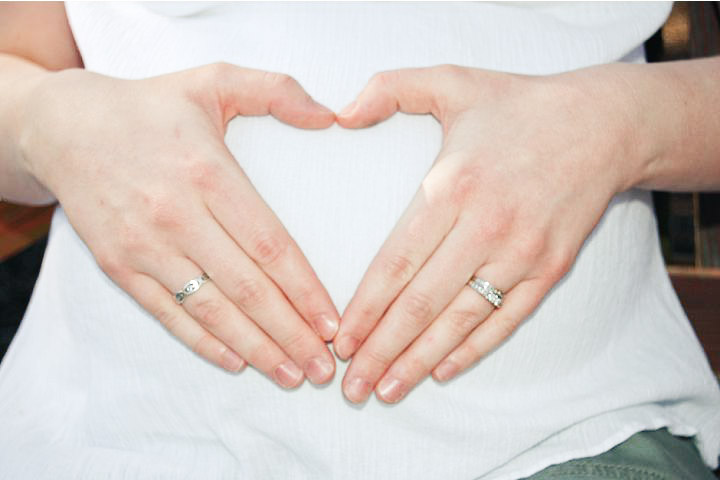 My husband and I had decided to go to South Carolina to visit his parents that weekend in May. I could not bear the thought of being at home for his due date and Mother's Day. I had to get away. How could I face those days at home with his nursery just upstairs, all prepped and ready, his clothes hanging in his closet, the bassinet sheets washed and waiting? When he died, we had just closed the door. It's all we could muster.
We headed down to my in-laws' on Friday and returned home Sunday evening. My mom and sister came over as soon as we got back; Mom said she had something for me. She said that she had struggled since Gabe's death with what to get me or how to commemorate Mother's Day. After all, I was still a mother, even if the world couldn't see it. She explained to me that she had been praying about this, asking God for the right words. She handed me a gift. "There is a story that goes with this," she said. It was a God story.
The Friday night before, my sister had wanted to go to a scrapbooking store. The first store they went to, their usual one, was closed, so they tried a second. Normally this store would have been closed as well, but because it was the second Friday of the month, it was open later hours. They went in the store and my sister searched for what she needed. While she browsed, my mom perused the book shelves, killing time. There, amongst all the scrapbooking how-to books, a book that didn't seem to belong jumped out at her. The only book of its kind in the whole store. The only copy on the shelf. It was called "Letters to Heaven: Words of Comfort for the Grieving Soul."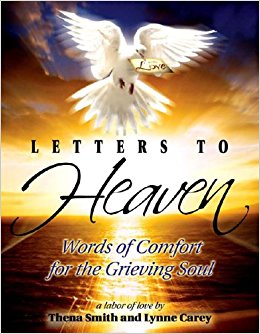 She picked up the book. It fell open to a page that contained the following –
WHAT IF…
I was pondering today
The words a tiny babe might say
If they were taken from the earth
Very close to their moment of birth.
What if they could look here below
And send us a love note to let us know
That they were happy and content
And that their time was not misspent…
"Mommy and Daddy, just want you to know
I realize that you love me so
And that you didn't want me to leave,
But please don't cry and fret or grieve.
God meant no harm to you or me
But my problems he could see
And knew that in Jesus arms
Was the best place for me to be.
An angel came and brought me here
And Mommy and Daddy, she saw your tears,
And even though she did not speak
With her wing she brushed your cheek…
I live in a lovely mansion here
With such a wonderful view –
It has a rocking chair and crib,
And there's a special room for you!
I know that you won't be here
For a very long, long time
But just wanted you to know
That your room is next to mine!
I hope you enjoy your life on earth
And don't worry about me at all
For I have so many friends
And angels on whom I can call!
Sometimes we go outside
And the clouds are rolling by
And I know that you are looking up
And see them in the sky
When you look up on starry nights
And see them so bright and clear
Just know that they are not nearly as lovely
As they look from here!
I love it here and I'm so happy
That Jesus loves me so
And He loves you just as much –
Just wanted you to know!
Well, I must go back now
But remember if you will
That I loved you while in your arms
And I love you still!
Take care dear Mommy and Daddy
And love your lives for me
For I know that our time together
Was so much shorter than
You thought it would be!
Do not rush your life to get here
For I don't mind the wait
And my face will be the first you see
When you enter the Pearly Gates!
She flipped back a few pages, and found this –
HOLDING GABRIEL'S HANDS
Just a few days ago
We could not understand
That this would not be a joyful day
Of holding our new baby's hand.
All of the preparation
And joyous days of waiting
For Gabriel to join us
Were supposed to end with celebrating.
Our special little angel
Was to be our pride and joy
Our precious gift from Heaven
Our darling little boy.
But that was not to be
And too quickly he was gone
Lifted up to Heaven
To hear the angels' songs.
We know where our darling is
And we will get through this sorrow somehow
For as for our Gabriel's tiny hands –
Jesus holds them now.
No, I did not change the title or name in that poem. That is really and truly what is on page 46 of this book.
God spoke to me that Mother's Day, nine years ago. I had begged Him for a sign or a message to show me Gabe was okay. He loudly and clearly answered.
I want to tell you, if Mother's Day is hard for you (and even if it's not), you have a God who loves you, longs to hold you, and hears your every prayer. If you seek Him, He is faithful to answer your prayers and bring you the comfort and peace you long for. Whether you have a strained relationship with your own mother, have lost a child, or are longing and waiting to be a mother and wondering if it will ever happen, God is with you. Emmanuel. Hope in the hopeless, in the business of bringing joy from ashes.
Motherhood in all its forms is not for the faint of heart. From Genesis, when the very first mother endures the agony of living through one of her sons murdering the other to Mary who watches her own Son, tortured and crucified, as she stands at the foot of the cross, you can see that motherhood and heartache go hand in hand. Its gifts and benefits are countless, but I don't think anyone would say that motherhood is easy. It's an emotional, deep, profound refining. But despite its hardships, despite all the waiting, wanting, and hoping, God is still good. I pray that you believe that today, in the bottom of your heart and to the depth of your bones.
He is faithful, and He will restore. Be encouraged this Mother's Day, Friends. We have a God who is closer than a Friend, who loves our children (past, present, and future) more than we ever will or could, and answers our prayers. And even when those answers don't look like what we had in mind, they are sweet, precious, profound, and deeply personal. He is enough. Ask Him to prove it to you. He longs to make it known.